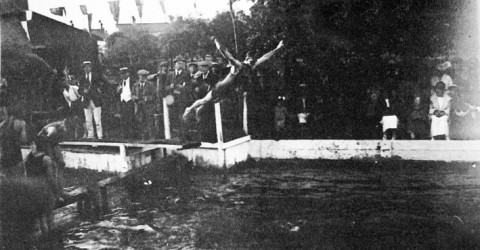 Soham's Clubs and Leisure Facilities – A short and Concise History
A Pleasure Fair held with the Whitsun horse fair still attracted swings and roundabouts in the 1860s, but was declining by the 1880s. Soham's chief 19th-century holiday was the village feast, by the 1750s starting on the Monday after Midsummer, the date selected for one of the fairs granted in 1679 to Sir Thomas Chicheley. Usually held by the 1840s from Monday to Wednesday, the feast continued to flourish, even though fewer travelling show men appeared in the 1870s and 1880s, in the 1890s. From the 1850s it included a cricket match. From c. 1850 to the early 1880s the landlord of the Crown brought down singers and acrobats from London to perform on his bowling green, also displaying fireworks. A local amateur brass band, founded by 1853, gave outdoor gala concerts, still attended by up to 1,500 people in the 1880s. An outdoor 'gipsy tea' on the Thursday after, which Soham temperance supporters started c.1855 in protest at excesses of conviviality during the feast, was from the late 1860s co-opted as a customary part of it. From 1860 to c.1875 the Anglican clergy sponsored, during their July Sunday-school festivities, flower and vegetable shows for cottagers, revived for allotment-holders from 1888 by a Horticultural Society. From the late 1890s to the 1920s the feast was gradually overshadowed by a parade, started by the vicar c.1898, held on the Sunday before in support of Addenbrooke's Hospital. From 1953 a carnival was held yearly at Whitsun, organized by the Soham Benevolent Association to raise funds for local causes: in the 1960s, at its peak it attracted c. 15,000 visitors. Its parade of floats was replaced from 1973with a show of up to 100 heavy horses, grazed on Soham's commons. The carnival was supplemented from 1976 by an autumn 'pumpkin fair', also continuing in the 1990.
In the mid 19th century Soham was large enough to attract occasional visits from travelling circuses, menageries and acting companies. In 1862 a rope-walking performance by Blondin, initially promoted by a local publican, drew 3,000 spectators. The village itself held concerts, occasionally from the 1820s, frequently from the 1850s, when the Court House or Town Hall provided a venue for music, lectures, and other shows. The Town hall was demolished only a few years ago to much public distain. A local Rifle Corps established in 1861 as part of the county volunteers provided itself with a fife and drum and well before it received any uniforms or weapons. A musical society formed in 1884 gave two or three concerts each winter in the late 1880s, while a dramatic society started by 1892 perhaps survived with intermissions into the 1950s. From 1960 plays were produced locally by the village college Players. Films were shown at Soham from 1908. By 1912 Taylor's, its coach makers, fitted up a workshop with seating to show them. In 1913 they put up a purpose-built cinema, a plain red brick shed like building, on Clay Street. In business until the 1930s as the Electric cinema, there after renamed the Regal, it ceased showing films in 1950. A rival cinema, the Regent (Rex), open from 1939 in a building south of Red Lion Square, was closed in 1969. Briefly used for youth club discos, that building was converted to a warehouse c.1975, and survived in the 1990s.
The 19th century saw several attempts to start a village institute and reading room. The dissenting schoolmaster, David Gunton, supported a Literary and Scientific Institute which opened in 1842 with 40 members. In 1850 some village youths started a Mutual Improvement Society. In 1856 a local printer and bookseller started a subscription reading room, and another was open at the boys' school c. 1868-70. There was a 'young men's institute' c.1872-5. In 1901 another institute with a reading room was opened, using rooms in the basement of the People's Hall on Station Street, one of the meeting places that Soham owed to late 19th century political divisions. A Conservative association for working men was formed in 1886-7, when it opened on White Hart Lane with a club hall, stage and a billiard room. The rival People's Hall was opened later in 1887, apparently by Soham's Liberals who had their own clubhouse on Churchgate Street; it served as the Literary and Social Institute from 1901 to the 1930s, when both party clubs still flourished. From 1919 the Soham Comrades Club, initially of former soldiers, took over the former Court House by the market place as their clubhouse. Still active in the late 20th century, that club had 500 members in 1988, when it enlarged the building. A Women's Institute, started only in 1944, was in 1961 with its 200 members the largest in the county. In the late 20th century Soham had numerous social, sports, and other clubs, among them ones for cricket, bowls, and tennis, also intermittently youth clubs. Two early 20th-century bands, one, the Excelsior, encouraged by a curate, the other from the Salvation Army, were united in 1921 as the Soham Comrades band.
A cricket club, which played from the 1830s, was reorganized at intervals in the 19th century and again, when it had a ground, in 1901, along with a football club, whose formation had been discussed from 1889. In the 1990s Soham United football club still used a ground on Qua Fen common, long rented from the parish. Soham Town Rangers, formed in 1947 by merging two earlier clubs, acquired in 1949 an existing ground south of Julius Martin Lane, where its clubhouse was rebuilt in 1989. In 1929 the parish council acquired for a recreation ground, 7a. of the grounds of Soham Place west of the church. The ground floor of the Place, that survived demolition, became the home of Soham Town Council. A sports hall with extensive indoor facilities, adjoining part of Soham Village College, planned by the Soham and District Sports Association, was opened in 1994. In the early 20th century villagers had swum in an open-air pool fed from the river. An outdoor pool was used in the 1970s but closed. St Andrew's C of E Primary School is currently building a new indoor pool, which will be completed in November 2013. A county library long cramped in a former shop on Churchgate Street was moved in 1994 to the remodelled former county junior school off Clay Street, when it closed in 1991.