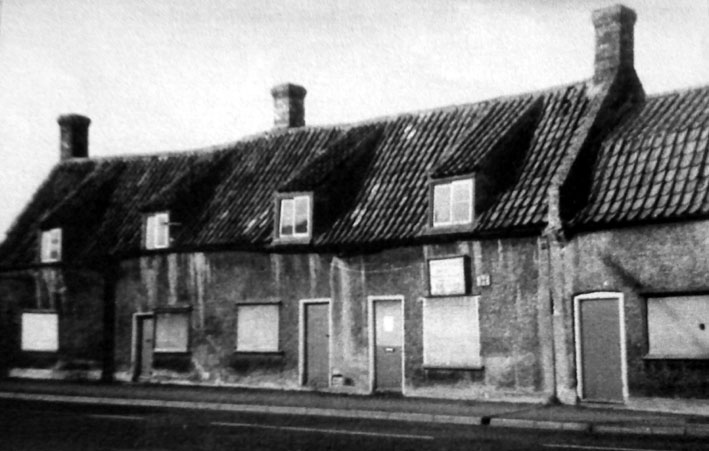 Many, many varied people have published information and books on Soham Pubs, brewery and ale houses; even the local papers have, including The Newmarket Journal and more recently Soham Town Forum, have both produced information, pictures and maps; but not many have the wealth of information gathered by Janet Murfet of Soham.
In 1981, Janet set about recording Soham's 'watering holes' for prosperity. Sadly Janet has passed away and this feature is a tribute to her and her work. Soham Heritage and Tourism are honored to present Soham Pubs to you and we thank Janet and her family for allowing us to exclusively use the information and pictures she has gathered.
Please sit back and enjoy the history of just three 'Pubs' we have chosen, purely for this feature, in Janets' own words. All other information and associated images on all the pubs, both old and new, are available for viewing at our forth coming exhibition; and items associated with this topic can be viewed in our Library Cabinet in the New Year.
A travel weary soul approaching Soham from the direction of Ely at one time of day, had the opportunity of taking a well-earned Traveler's Rest. Many people in Soham will recall happy days and evenings spent there. Although we know it was open in 1907 as it was written of by a Mr E Smith of Soham as open at that time, most people will readily recall Mr Alfred and Mrs Rene Griggs who took over the pub in 1927 and held it until its closure in 1949. After which they purchased premises. Mrs Griggs said their days at the pub were full of happy memories, of regulars and pleasant times. Before Alf and Rene the pub was kept by a Mrs Cornwell, who will also be remembered. Some years before Mr Griggs father also named Alfred, was the landlord. All of these persons kept the house that is still there at present, but prior to this there was a much older house on the site. One of the landlords kept a parrot in the bar and the bird learned to say 'hello cocky'. It appears that one of the regulars was nicknamed 'Cocky' and on one occasion the bird shouted his greeting and Mt Clements (ie: Cocky) was very cross. He is reputed to have proceeded to the bird's cage and tipped his beer all over the poor thing! The bird was not heard to repeat the greeting again. The Parish magazine of 1889 tells us that the 'Traveler's Rest' was then kept by Mr James Cater. Another landlord was named David Bartle and he is reported to have been nicknamed 'Cracker'. Though why so is not sure. In 1879 a license was granted to a James Sucker of the Shade who also worked as a carpenter and is believed to have worked on the interior of the house. Today the house is occupied by an employee of Griggs Transport who continue to operate from the site. These predominately red lorries can be seen conveying goods to the markets and depots and many a local man has found seasonal work with the company during vegetable and flower seasons. Today there is no longer a pub there to relax in when travelling, but the drivers know that when they see the familiar yard they can make their way home and take a well-earned Traveler's Rest.
This site has now been developed by Hopkins Homes into a housing estate
In 1846 Mr Norman Kidd purchased the property in Hall Street, Soham from Mr William Clack. Mr Kidd was a farmer and licensed victualler. He had a son Albert and a daughter Julia, who married John Hawes Raby, a local Blacksmith. It was during Norma's life that Yew Tree House was selling beer and was known simply as The Yew Tree. Norman's widow, Peggy, inherited the property on his death and when she died on August 12th 1884, the house passed to Albert and Julia received £100.
In December of the same year, the house was purchased by Mrs Elisa Pettit for the sum of £260 and on her death it passed tom her sons, Arthur and Charles, who sold it in 1898 for £312. The purchaser were Mr and Mrs Fred Peachey, who later moved to Mereside. On February 2nd 1924 it was bought by Mr and Mrs John Palmer who sold it in June 8th 1925 to a builder from Surrey named Mr Charles George Hook. Mr Hook paid £600 for it and the family lived there for many years. On his death it passed to his executors Eunice and Theodore Hook, who were not local people and took some time in deciding its fate. After Eunice's death in 1936, Theodore made the decision to sell. The property was purchased by local flower grower Mr W J Wright and his wife Lucy. The Wrights sold the house on March 7th 1944 and the purchasers were members of the Turner family and the house today belongs to Mr Wallace Turner who rents it to a tenant. After Mr Wright's death, a clock was purchased and commemorated tom him in The Salvation Army Hut.
The Yew Tree was not used as a pub before the time it was purchased by Mr Norman Kidd and not used as one following his death. Thus it is remarkable that folk today ever knew it to be a pub at all. And yet the mane lingers on.
Mr Wallace Turner has passed away
Standing in Hall Street, Soham, several years ago was a pub known as the Black Horse. It stood opposite the Bushel and the landlady of the Black Horse, Mrs Sophia Parsons and the landlord of the Bushel Mr Moses Wheeler were great friends and often shared a pint at Mrs Parson's pub. The premises today are derelict but when Mrs Parson's was licensee, all her grandchildren would gather at her home for their mid-day meal and all were very fond of her. Sophia had a son Robert who once owned a slaughterhouse, but je lost it through lack of effort or concern. One day Mrs Parsons had occasion to go to Ely and as a last resort left Robert in charge of the pub. On her return she was delighted to hear that Robert had done a roaring trade and had sold out of beer. Mrs Parsons was full of praise until she learned that he had achieved this remarkable feat by selling the beer at 1d less than the going rate of 2d a pint! To say Mrs Parsons was furious is an understatement. When she left the pub she was as old lady and her grandsons would do a few chores for her and she would always ask if they wanted repaying. On one occasion her grandson Jack had been helping her and the old lady complained, 'Whatever I offer is always refused'. On On a later occasion Jack spotted as old post lying in her yard, so after completing the chores he said that if his grandmother had no use for the post he would take it for his chickens to roost on. The old lady far from being in agreement replied, 'Well that's a rum 'un, you never come here than what you want somethin'. Needless to say Jack never got his post! The old pub became a small general store known as Canham's, and a very handy little shop it was too. Towards the end of the premises useful life, the shop was run by Mr and Mrs Mott who always seemed to have what the customer required.
The premises have since been converted into cottages and still stand to this day