Linking Soham's past to the future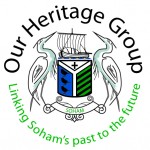 This is your opportunity to join Soham Heritage and Tourism and help support our work within the town.
Belonging to the group entitles you to:
Advanced notification of all our exhibitions, displays and events
Free access to our archive of information and images
(Our archive is extensive and covers many centuries on all manner of subjects. It is ongoing so we can maintain an up to date and accurate archive for Soham's future)
Choice of one of our many publications
(hard copy or download as available)
Artefacts days when you can view items from our collections.
(This will be strictly for members only)
Invitations to any of our Events/Activity and Open days
FREE gift when you join – A hand made, St Andrew's pre medieval Rood Screen Boss
Children aged 16 or under can be members for FREE
News letter on all our activities (email only at this time)
Membership is renewable each year, on the last day of March and costs £5 per person or £8 for joint membership. (Two persons).
A membership card and payment details will be sent on receipt of application.
All details are kept solely by ourselves and not passed on to any other party
Committee Membership and Supporters
Linking Soham's past to the future
Soham Heritage and Tourism promotes Soham's heritage and themes of local and national interest, to groups, schools and individuals around the town and throughout East Anglia. Therefore we are in ever need of members to help and engage with us and our efforts.

So if you have an interest in our work, history or Soham and wish to join us, as a committee member or supporter, please email us: [email protected] or in box us via our popular face book page. (2) Soham Heritage & Tourism | Facebook
(NB: We are currently forming a junior arm to the group, for anyone aged 12 and upwards, who have an interest in history and wishes to be more involved).