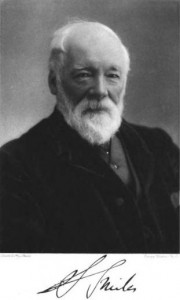 SAMUEL SMILES
Education in Wicken at the end of the nineteenth century and beginning of the twentieth century was remarkable for its success. It produced a wide range of nationally successful professional men and one woman. Sir James Pope the engineer, Wally Redit the boxer, Johnny Bullman the cyclist, Anthony Day the painter, Frank  Barber the goat  judge. Reginald [Wick} Alsop the banker, and most recently Ruby Barton as a self-taught educationalist.
I am writing this at the behest of Elizabeth Johnston who when we were researching Andrew Fuller could not comprehend why Woolard Barton, a high Tory, was so proud of his wife having a relative mentioned in Samuel Smiles. His book of Self Help was essentially a Free Church manual. I am unable to go into details of the early lives and education of the first five. However, if I include my gardening and  the books I have written to international acclaim I can make  reasonable assumptions of how my aunt and her cousin  from  a small village like Wicken could produce such  excellence when we had all left school at the age of fifteen.
During the period 1845 to 1850 Wicken was hit by a series of cattle plagues. Adelaide Adamson Barton lost most of her money. She had behind her many generations of educated gentlefolk. She was not deterred. Few people in Wicken were able to read and write, she commenced to doctor them with a Culpeper's Herbal. I do not know if she possessed a copy of Samuel Smiles Book of Self Help when it was first published in 1859, because the copy which Ruby Barton my aunt gave to me was the copy that had belonged to Wicken Lending Library when it closed .It is dated 1880.
For this to be a reasoned debate there are two people who have to be eliminated. The first is my mother Emma Cecilia Barton. She sang her first solo in Ely Cathedral at the age of 14, and was in the habit of leading the High School Girls in their crocodile as they walked through Ely. She consequently met my father. To the disappointment of her mother s family she married him at an early age. She subsequently devoted her life to making his a success. The second was Woolard Barton's neice Ella Remington. The charming daughter of a rich man knew that whatever she wanted someone would provide. She had little incentive to listen to her grandmother's advice. She did live a successful social life, but I am not so sure Samuel Smiles would have approved of all that leisure.
Reginald Alsop was the only son of Woolard Barton's sister Adelaide. His father died young and his mother would work as a companion in London to various titled Ladies. Consequently whatever schooling he had come from his grandmother and Woolard Barton. He left school at fifteen. He was blessed with great mathematical ability. His first place of work was at W Eaden Lilley's in Cambridge. He was here for three years until he joined the army. He was batman to a gentleman with a connection to Barclay's Bank. On leaving the Army this gentleman found him a lowly position in Barclays Bank at the Milton Branch in Cambridge. He worked hard. Slowly he improved his position. He had a gift to be amenable to all he met. At this time C.O.Stanley was beginning the launch of Pye's Radio. He was chosen to care for the Pye account. He did this with such success that when it was time for him to retire the Stanley family asked for him to remain in position for a further five years. When this was over they created the position of Social Director for him until his retirement. He had a tremendous gift for being liked. His local directors realised that his reliability and excellent social behaviour brought many clients to his branch. I remember at the time of his funeral where I was his only blood relative present  a  comment from one of the congregation" We all followed him because we never knew where he would take us  next." During the war he realised his cousin Ruby Barton could entertain with her clear soprano and he joined   with her and a group of friends in sponsoring concerts for the war effort. He had had an interest in rowing since boyhood which led him to the 99 Rowing Club. He learned how the club ran by being first its Secretary, slowly working his way to President. He made their social calender the most important events of 1950 Cambridge. The family said how he loved his Bishops, indeed he never threw any of their letters away and kept them in sackfls where he lived. At the end of his life he was never lonely for the rowers of the 99 club included and entertained him in all their functions. I remember thinking at his funeral even that was a great social event. His generosity left bequests for all his charities the 99 Rowing Club was a particular beneficiary. He did not forget Wicken he reroofed the church in memory of his mother. I remember choosing the words on his funeral plaque with great care, and everyone could see he had remembered the village from which he achieved such success.
I first became acquainted with Samuel Smiles when I was about ten. Grandmother Barton nee Fuller liked to hear me sing before my voice broke. One day after singing she brought out the book of Samuel Smiles and told me how if you persevere the best possible results will be achieved. I did not train my voice to become an opera singer. I did not think I was sufficiently good looking to hold centre stage. I was born the second son, and always expected to be second in everything I did.
The life of Ruby Barton was not an unqualified success. It showed once again the importance of self-improvement which was common to everyone who lived in Wicken at this time. She was the youngest of the five children of Woolard and Emma Barton. It was always assumed she would stay at home to look after her aging parents. However the agricultural depression came and by 1925 she had to find employment. She had helped the Reverend Lewis with teaching children. She could teach successfully. She was never a certificated teacher. He enabled her to commence teaching in Wicken School. She was so successful that she had a number of teaching posts in Reach and Soham becoming the Headmistress of Upware School in the 1950's. It was here with sometimes as many as 45 children and scant help she developed her theories on education so successfully.
On a personal note, she had a voice of exceptional beauty. When she was in her forties I remembered the last time that she sang Haydn's My Mother bids me bind my hair. I told my eldest granddaughter when she was the leading soprano in the National Youth Choir that when she could sing like this I would feel extremely proud of her singing. The Reverend Lewis moved to Lode in the early 1930's and because she and Elsie Lewis had remained close friends she met Huttleston Broughton the first Lord Fairhaven. He, Captain Briscoe from Longstowe, and Beauchamp Pell from Wilburton were all appreciative of her voice. Many years later Beauchamp Pell told me he did not consider it best form for her to be one of the first women in the county to ride a motorbike. Wick Alsop saw the opportunity for them to raise money for the War Effort. This was successful for her. It meant that her voice was known to a wider audience. She never married. She had her admirers .Her career outside teaching was to stay at home and care for her older brother and mother. After she was 90 and was recovering from a serious operation I became her confidant. I realised then the enormous courage she had taken to teach away from the accepted principles of her time with such resounding success.
When I was about seventeen there was great excitement .The then Provost of Eton called at Upware School to ask my aunt Ruby Barton  how  with forty pupils and usually no other  help  she managed to get such a high proportion of children successfully through the eleven plus examination. I remember her telling him that she worked hard to get them to read. Then because of the numbers she was teaching made the older ones supervise the younger children.  He replied that is consistent with the story I heard from the Grammar School that you did not send the brightest, but always children with a sound character.
She had encouraged me to go to her school to read to the younger classes since I was about eight years old. My education was patchy to say the best. When I was three I first went to nursery school, this closed. I went to another. Then to the local infant's school then when I was seven to the secondary modern I got beaten up, my father arranged for me to go to the King's School at Ely. It took no pupils below the age of ten. I had three years in the lowest form. I had been well taught I finished up two years below the average age of my form, when I moved to Culford and left school when I was fifteen. I then worked for Clark & Butcher until I joined the Royal Air Force where they taught me statistics. When I returned home and commenced to work on the grain markets I found this of great use. In the late 1950's no one had considered applying statistics to the English grain market. This proved successful. I was offered the chance in 1961 to write the leading article in the London Corn Circular. This was a great opportunity. It also introduced me to Philip Sidey. He was a late night news editor at the B.B.C. He later moved on to create Pebble Mill at One. He taught me to write facts without being dull. This continued until 1973. My father was diagnosed with cancer. I gave up my promising writing career, to check his work as the drugs became stronger. The Transport and General Workers Union liked my style of management. They proposed that I lecture to the Sixth Form Colleges on management .This was very successful. By the time I finished I was lecturing to ten schools.
Clark & Butcher continued to prosper. In 1989 they decided they could make more money without me. This was a bad time. My wife lost her father, mother and aunt. I lost my wife and close friend cousin Hazelmary within eighteen months. After I sorted out my life I realised buying and selling shares was very like buying and selling wheat. Timothy Clark Ltd. had been in business for some twenty years but never successful nor failing. Slowly I moved it along and today it is a comfortable business. It was always helped by my writing on gardening for both Country Life and The Garden the Journal of the Royal Horticultural Society. The two books I have written on Margery Fish and Mary McMurtrie to international acclaim would never have been possible   if Adelaide Barton had not begun her collection of herbs.  It was their remnants, which taught me to garden. Doctoring the people of Wicken; educating them with the help of Samuel Smiles theories I realise now life dealt her a bowl of lemons, but she created   the most delicious lemonade for the whole of Wicken.
Kindly given by Mr T Clark
Samuel Smiles
Samuel Smiles (23 December 1812 – 16 April 1904), was a  Scottish author and government reformer who campaigned on a Chartist  platform. His masterpiece, Self Help (1859), promoted thrift and claimed that poverty was caused largely by irresponsible habits, while also attacking materialism and laissez-faire government.
Biography
Born in Haddington, East Lothian, Scotland, Smiles was one of eleven surviving children. While his family members were strict Cameronians, he did not practice. He studied at a local school, leaving at the age of 14. He was apprenticed to be a doctor under Dr. Robert Lewins. This arrangement enabled Smiles to study medicine at the University of Edinburgh in 1829. There he furthered his interest in politics, and became a strong supporter of Joseph Hume.
His father died in the cholera epidemic of 1832, but Smiles was enabled to continue with his studies because he was supported by his mother.
In 1837, he wrote articles for the Edinburgh Weekly Chronicle and the  Leeds Times, campaigning for parliamentary reform.  In November 1838, Smiles was invited to become the editor of the Leeds Times, a position he accepted and filled until 1842. In May 1840, Smiles became secretary to the Leeds Parliamentary Reform Association, an organisation that held to the six objectives of Chartism: universal suffrage for all men over the age of 21 Equal-sized electoral districts Voting by secret ballot.
As editor of the Leeds Times, he advocated radical causes ranging from women's suffrage to free trade and parliamentary reform. By the late 1840s, however, Smiles became concerned about the avocation of physical force by Chartists Feargus O'Connor and George Julian Harney, although he seems to have agreed with them that the movement's current tactics were not effective, saying that "mere political reform will not cure the manifold evils which now afflict society."
On 7 December 1843, Samuel married Sarah Ann Holmes Dixon in Leeds. They had three daughters and two sons. In 1845, he left the Leeds Times and became a secretary for the newly formed Leeds and Thirsk Railway. After nine years, he worked for the South Eastern Railway.
In the 1850s, Smiles abandoned his interest in parliament and decided that self help was the most important place of reform. In 1859, he published his book Self Help with illustrations of character and conduct. He wrote articles for the Quarterly. In an article on railways, he argued that the railways should be nationalised and that third-class passengers should be encouraged. In 1861 Smiles published an article from the Quarterly, renamed Workers Earnings, Savings, and Strikes. He claimed poverty in many instances was caused by habitual improvidence.
In 1866, Smiles became president of the National Provident Institution, but left in 1871, after suffering a debilitating stroke. He recovered from the stroke, eventually learning to read and write again. By 1875, his book Thrift was published.
When in 1892 Gladstone returned to power and introduced his Second Irish Home Rule Bill, Smiles wrote to his son in Ulster: "Don't you rebel. Keep quiet, though I see your name among the agitators … Your letter is frightfully alarming … Gladstone has come into power and we are threatened with Civil War. This cannot be the result of good statesmanship. Yet there are Liberal members to cheer on the maniac. Alas, alas for Liberalism! … Must I give you six months' notice to withdraw my loans to the B.R. Co., for I want to keep the little money I have for wife and bairns, not for arming the Ulstermen". Smiles wrote to Lucy Smiles in 1893, "This Home Rule Bill is horrid  … I am quite appalled at that wretched hound, miscalled statesman, throwing the country into a state of turmoil. I cannot understand how so many persons in this part of Britain follow that maniac, just like a flock of sheep. He is simply bursting with self-conceit. Alas! Alas for Liberalism!"
On 16 April 1904, Samuel Smiles died in Kensington, London and was buried in Brompton Cemetery.
Self-Help
The origins of his most famous book, Self Help, lay in a speech he gave in March 1845 in response to a request by a Mutual Improvement Society, published as, The Education of the Working Classes.
In 1859, Smiles self-published the book, retaining the copyright, while he paid John Murray a ten percent commission. It sold 20,000 copies within one year of its publication. By the time of Smiles' death in 1904 it had sold over a quarter of a million copies.
Conduct manuscript
Smiles intended to publish a book titled Conduct, in 1896. He submitted it to his publisher, but John Murray declined to publish the book. In 1898 publication was denied again. After the death of Smiles in 1904, the manuscript of Conduct was found in his desk and, on the advice of John Murray, was destroyed. No copy is known to exist.