Date/Time
Date(s) - 27/09/2014
2:00 pm - 9:00 pm
Location
Soham Books
A PUBLICATION FOR SOHAM HERITAGE AND TOURISM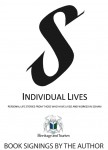 Every place has a story to tell, as does every person who lives, works and resides within that place. The telling of some of the most interesting and meaningful stories of everyday people, connected with Soham, are now yours to enjoy. Relive their lives and how they have interacted with others throughout our town.
This is a book full of personal accounts that are as memorable as the people themselves.
Elizabeth Johnston, author of Haunted Soham, brings her light and conversational touch to this publication for your enjoyment
Book signings at:
Soham Books, High Street,  Soham on Friday 12th September from 10am to 12noon.
Soham Pumpkin Fayre at the Soham Heritage and Tourism stall.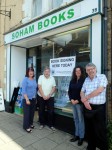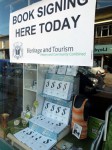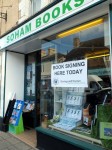 Friday 12th September saw the first of our two Soham Individual Lives book signings by the author E Johnston, for and on behalf of Soham Heritage and Tourism. We would like to thank Joy and Richard Dean of Soham Books, for all their efforts and Gillian Peak and Geoff Griggs for coming along and supporting the signing. Both Gillian and Geoff were contributors of stories and each has been reproduced in their own words and unique witty styles. Copies now on sale at Soham Books for £5 each.