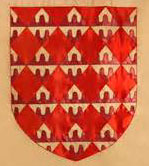 The de Burgh Brothers
Hubert and Geoffrey in detail
Hubert De Burgh entered the service of Prince John by 1198, and from then until 1202 rose in importance in John's administration. He served successively as count of Mortain, chamberlain of John's household, an ambassador to Portugal, sheriff first of Dorset and Somerset and then of Berkshire and Cornwall, custodian of the castles of  Dover and Windsor, and then custodian of the Welsh Marches . For these services, he was granted a series of manors, baronies, and other castles, and became a powerful figure in John's administration.
In 1202, de Burgh was sent to France by King John, to assist in the defense of Poitou against King Philip II of France. De Burgh was appointed castellan of the great castle of Chinon in Touraine. After almost all of Poitou had fallen to the French king, de Burgh held the castle for an entire year, until he was captured during the ultimately successful storming of the castle in 1205. He was held captive until 1207, during which time his royal appointments and grants of land passed to other men. Following his return to England, de Burgh did however acquire fresh offices in John's administration. He also acquired lands scattered throughout  East Anglia, the southwest of England, and elsewhere, making him once again an important baron in England.
De Burgh remained loyal to King John during the barons' rebellion in the last years of his reign. De Burgh and Philip d'Aubigny brought together the king's troops at Rochester, but then John made peace with the rebels. In the Magna Carta of 1215, de Burgh is listed as one of those who advised the king to sign that charter, of which his brother Geoffrey de Burgh, Bishop of Ely, was a witness. De Burgh is also listed as the person who would act on the king's behalf if the king were out of the country. Soon after the issuing of the Magna Carta, de Burgh was officially declared Chief Justiciar of England.
When Henry III came of age in 1227 de Burgh was made Governor of Rochester Castle, lord of Montgomery Castle in the Welsh Marches and Earl of Kent. He remained one of the most influential people at court. On 27 April 1228 he was named Justiciar for life. But in 1232 the plots of his enemies finally succeeded and he was removed from office and soon was in prison. He escaped from Devizes castle and joined the rebellion.
The marriage of Hubert de Burgh's daughter Margaret (or Megotta as she was also known) to Richard of Clare,  the young Earl of Gloucester, brought de Burgh into some trouble in 1236, for the earl was as yet a minor and in the king's wardship, and the marriage had been celebrated without the royal licence. Hubert, however, protested that the match was not of his making, and promised to pay the king some money, so the matter passed by for the time. Eventually the marriage came to an end, by way of her death.
Soham Manor acquisition
In 1200 King John gave the whole manor to Alan, son of Henry, a Breton count, who was deprived for disloyalty in 1202. John's chamberlain, the future justiciar Hubert de Burgh, who received the whole royal manor in 1203, kept it longer. When created earl of Kent in 1227, Hubert was formally confirmed in hereditary possession of the king's Soham manor, to be held as one knight's fee. Although Henry III seized Soham when he dismissed Hubert in 1232, it was restored to him when he was pardoned late in 1234. Within four months Hubert had rewarded Philip Basset, who in 1233 helped free him from captivity in Devizes castle, by giving him 176 a. of his Soham demesne with lordship over numerous tenants, who held 465 a. there. In 1242 each lord of Soham held his manor as ½ knight's fee, Hubert in chief, Philip of Hubert. After Hubert died in 1243 and his widow and joint tenant Margaret of Scotland in 1259, his part of that Soham manor descended to his son John de Burgh, who was granted free warren there in 1260. In 1273 Edward I induced John to sell him the reversion of Soham among other estates, retaining a life interest.
De Burgh married three times:
Firstly to Beatrice de Warrenne, daughter of William de Warrenne.
Secondly in September 1217 to Isabella, Countess of Gloucester, daughter and heiress of William Fitz Robert, 2nd Earl of Gloucester.
Thirdly to Princess Margaret, sister of King Alexander II of Scotland.
Hubert de Burgh died in 1243 in Banstead in Surrey, and was buried in the Church of the Friars Preachers (commonly called Black Friars) in Holborn, London.
Geoffrey de Burgh
Geoffrey was the brother of Hubert de Burgh, Earl of Kent, and William de Burgh,  Lord of Connacht. He was born no later than 1180 or so, based on his appointment as archdeacon in 1200.
Geoffrey was cannon of Salisbury Cathedral and a treasurer of the Exchequer before being named Archdeacon of Norwich in 1200. He was elected to the see of Ely in 1215, but the election was quashed by Pope Honorius III before May 1219 due to a competing election with Robert of York. The pope quashed both elections, and ordered a new election, where the monks elected John of Fountains, who was a Cistercian and the abbot of Fountains Abbey.
Geoffrey was once more elected to Ely in June 1225. He owed his election to his brother Hubert, who was Justiciar at the time. He was consecrated Bishop of Ely on 29 June 1225 and died between 8 December and 17 December 1228. He was buried in Ely Cathedral in the north choir. Beside his brothers, he also had a nephew, Thomas Blunville, who Hubert had elected to the see of Norwich in 1226. He was buried in Ely Cathedral, to the left of the choir stalls along the side passageway. No surviving tomb or monument exists today.