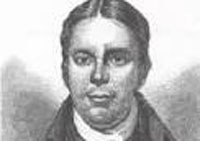 Andrew Fuller (1754-1815):
A Brief Overview of His Life & Legacy
Founding father of the English Baptist Missionary Society; an advocate of evangelistic Calvinism
Andrew Fuller was born on February 5, 1754 in Wicken, Cambridgeshire, England. He was the son of poor Baptist farmers. Because Fuller ministered during the same era as George Whitefield and the Wesley brothers it would be easy for his name to get lost in their giant shadows. He pastored two congregations during his life at Soham (1775-1782) and at Kettering (1782-1806). Christianity in England was in a generally depressed condition at the time to which Fuller was born. Particular Baptists had fallen into a hyper-Calvinism that denied the need to evangelize the lost or even to offer salvation to anyone.
Andrew Fuller was an indefatigable Baptist theologian and pastor, an outstanding figure with qualities that make him one of the most attractive figures in Baptist history. Many in his day and after could echo the words of his very close friend William Carey, "I loved him."
Self-taught when it came to theology, Fuller immersed himself in the works of Baptist and Puritan authors, including John Bunyan and John Gill, John Owen and Jonathan Edwards. Ultimately, though, it was to the Scriptures that he looked for his theological convictions.
He was baptized in the river at Soham in Cambridgeshire, where he also preached in later years. (see first para).
His first major work, The Gospel Worthy of All Acceptation, which appeared in 1785 with a second edition in 1801, proved to be an epoch-making book that decisively refuted Hyper-Calvinism and laid the theological foundations for the modern missionary movement. In 1793 he issued an extensive refutation of Socinianism or Unitarianism, The Calvinistic and Socinian Systems examined and Compared, as to their Moral Tendency, which well displays the Christ-centered nature of eighteenth-century Evangelical thought. Fuller also published influential rebuttals of Deism and Sandemanianism, the latter an eighteenth-century form of "easy-believism."
One other of Fuller's literary works deserves mention. His Memoirs of the Rev. Samuel Pearce (1800), modeled after Jonathan Edwards' life of David Brainerd, recounts the life of his close friend, Samuel Pearce of Birmingham, whose walk with God was admired by many in the nineteenth century. Fuller's own spirituality, which was deeply indebted to the piety of Jonathan Edwards, also played a key role in shaping Baptist life in the years after his death. In addition to these literary projects Fuller was also a conscientious pastor and secretary of the Baptist Missionary Society. As a pastor-theologian, he is a great mentor for Baptists today.
It is clear that Fuller had remarkable stores of physical and mental energy that allowed him to accomplish all that he did. But it was not without cost to his body. In the last fifteen years of his life he was rarely well. He preached for the last time on 2 April 1815 and died 7 May of that year.
The importance of his theological achievements was noted during and after his life. The College of New Jersey (1798) and Yale (1805) both awarded him a DD, though he declined to accept either of them. C.H. Spurgeon did not hesitate to describe Fuller as "the greatest theologian" of his century, while the Southern Baptist historian A. H. Newman said that "his influence on American Baptists" was "incalculable." Without a doubt, he was the most important theologian of the late eighteenth-century transatlantic Baptist community.
 NB: If anyone has any more information on Andrew Fuller we would love to hear from you.
My grandmother Emma Barton nee Fuller, who lived until she was ninety, was the great – great niece of Andrew Fuller. I used to sit with her during the last years of her life and she would tell me stories of her childhood, first spent in Coveney and then of Spinney abbey in Wicken. This is where she lived before she married Mr Woollard Barton. She was particularly proud of the fact, that she had a relative mentioned in Samuel Smiles.  She started recommending the book by him on Self Help, as an example of how anyone could work hard and succeed, that I started taking a serious interest in his achievements.
The reason for this was that Woollard Barton was a High Tory, although for generations they had slowly come down in the world, he expected to have his windows broken at election time as most people in Wicken were Liberal. My mother and my aunt were therefore not so good at sympathy for the Free Church Liberal movement.  We have an example of this in Soham where the dissimilar chapels were built so that the Free Church and Church of England members did not meet at the Cemetery, showing the depth of this feeling. Consequently although she frequently said that the stories were told by her mother who was born in 1830 at the beginning of Queen Victoria's reign, many of the stories had come from her mother. This puts us safely in the territory of the time when Andrew Fuller was completing his evangelizing which led to the establishment of the Baptist Church in the Southern states of America.
Andrew Fuller was born in Padney where the Fuller family originated. Indeed they are the first family recorded in Wicken. The first was John who was recorded as owning the Padney farm in 1695. There are family memories that he had been a tenant farmer before this. His son Robert built Padney House. It was not quite correct that Samuel Smiles recorded Andrew as a working ploughboy. The first baptism by total immersion in Soham had taken place at Brook Dam in 1752. This would have been before the course of the river was changed to flow through Soham and into Soham Mere. It is not likely that Andrew Fuller was among the first because he did not become Pastor of Soham Baptist Church until 1775. Soham was where he preached and prayed; where he corresponded with William Wilberforce the great Anglican reformer; with William Carey the great Baptist missionary pioneer; and it was here in Soham he had the vision to extend and create the Baptist Ministry in India.
However the memories that came from my grandmother's grandmother were more mundane than this. Once when she was a girl he came to dinner. There were eight at the table, and a very small chicken. He was asked what portion of the chicken he would partake and replied a leg and a wing and a piece of the breast. She remembered, as the youngest present, of having only vegetables that night. This story was usually followed by the one of a visit to Ely Market Square to see the last public hanging. She said it was a poor jobless farmworker. He had stolen a sheep to feed his five starving children. He was hung; and the five children and their mother nothing but skin and bones, were transported to Australia. She said as she grew up, despite his increasing importance, he always took an interest in her life. It may have been because although he had eleven children eight of them died in infancy here at Soham.
It is perhaps this aspect of his kindness that comes across most strongly. If you have first read the achievements of his life that Elizabeth Johnston has recorded above. His kindness improved so many lives that when page 320 of Samuel Smiles talks of sustained application, he says that 'when Andrew Fuller worked as a farmers lad in Soham he was chiefly famous for his skill in boxing'.
Piece kindly submitted by: Mr Timothy Clark.