Date/Time
Date(s) - 17/09/2016
10:00 am - 4:00 pm
Location
South Angle Park Farm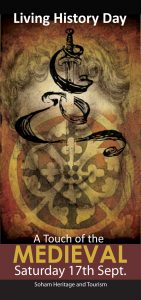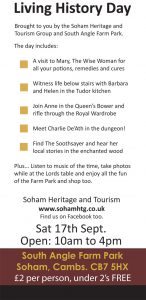 Saturday 17th September – 10am to 4pm at South Angle Farm Park (CB7 5HX)
The day includes:
A visit to the wise woman for potions, and remedies
Witness life below stairs in a Tudor kitchen with Barbara and Helen
Join Anne in the Queen's bower and rifle through the Royal wardrobe
Meet Charlie De'Ath in the dungeon!
And find the Soothsayer and hear her stories in the enchanted wood.
Plus… listening to music of the time, take a photo whilst sitting at the Lord's table and enjoy all the fun and attractions of the Farm Park and shop.
2.00 pounds per person and under 2's FREE