Linking Soham's past to the future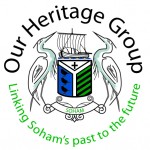 This is your opportunity to join Soham Heritage and Tourism and help support our work within the town.
Belonging to the group entitles you to:
Advanced notification of all our exhibitions, displays and events
Free access to our archive of information and images
(Our archive is extensive and covers many centuries on all manner of subjects. It is ongoing so we can maintain an up to date and accurate archive for Soham's future)
10% off all our publications
Artefacts days when you can view items from our
collections. (This will be strictly for members only)
20% off our Children's activity days
Regular information packs given on subjects relating to Soham from the forming of the Fens to the present day.
FREE gift when you apply
Children aged 15 or under can be members for FREE
Membership is renewable each year, on the last day of March and costs £10. per person.
A membership card and payment details will be sent on receipt of application.
All details are kept solely by ourselves and not passed on to any other party