This page will give you information relating to artefact donations. We have two well regarded display cabinets, based in Soham Library and The Walter Gidney Pavilion which are always changing and are packed full of wonderful items which we love to share with you all.
However, due to many requests, we are now placing details of some of our donated pieces onto our website, so those who have links to Soham, but do not live in the town or have an interest in our work, can also enjoy the items we show. Of course, you will understand that we cannot show all our items, as our collections are vast and very varied, but we hope the pieces we choose are of interest to you all.
NB: All donations are made to us with the full knowledge of the donator(s), and that they are being given solely to Soham Heritage and Tourism, to be held and preserved for the people of Soham and to no other group or organisation.
Small Items
These little gems come from the same donator below. They consist of two coin weights from the 17th Century, votive axe head offerings (Roman), a George IV coin and an as yet  unidentified Roman coin. All these have been found in and around Soham.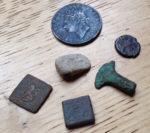 Artefacts
This morning we were given vast array of items, all found in and around Soham, over many years that ranged from:  Neolithic flints, pudding stone pebbles, bronze/iron age pottery, Roman pottery pieces and coins, weights, medieval coins, buttons and pipe pieces. This collection will be named after the donator and be put on display, when all the artefacts have been identified. Soham Heritage and Tourism cannot thank RB enough for this generous donation.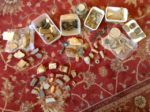 Bicycle
Today we were given a lovely bike which used to belong to Mr George Duffield of Soham. We thank JG for her donation of this wonderful personal piece, which, considering its age is in great condition. It will go directly into the Pavilion for display with our other donated items, in their own specific display. Thank you again for supporting us. xxxx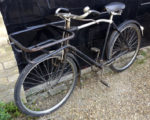 100%
RA, a great donator of items to Soham Heritage and Tourism, has given us this latest item on loan. It is a 100% years attendance at school badge, which was found when an old fireplace was dug out. So if anyone knows who Gladys was or is, we would be most grateful.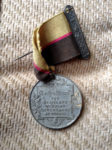 Cheers!
Thank you to GP for donating a vintage bottle of wine to us. It looks really great, especially the bottle, label and age and I'm sure it will add to any of our associated displays. Although I think the contents will remain… just as they are!
Book, maps and etchings!!!
On Tuesday we were given a lovely leather bound book detailing East Anglia's Contemporary Biographies, which list the great and the good in our region from the 20th Century. Two very large maps of Soham from 1926 and two huge etchings of Ely cathedral. These items are fascinating to read and look at, so we can't wait to display them for you all.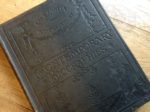 Roman Pottery
One of our regular donators has given us some lovely Roman pottery shards; to join the ever growing collection of original Roman artefacts we hold. All found locally.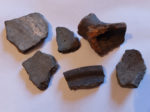 Medieval Pottery
Recently donated to us, this selection has pottery pieces, animal bone and a stone, which was possibly used to sharpen a knife with.
Brooches
Two delightful brooches have been donated by a lady. These will add to the costume jewellery collection. Thank you x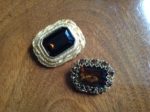 Mary Magdalen – Oil Painting
Wow, this large oil painting is on long term loan to us. It is of great age and has some wear to it, but looks stunning. We can't wait to add this to our artwork collection and ready it for display.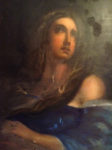 Post Cards
A set of vintage 'saucy' postcards has recently been donated. These form part of the Edwards Collection.
Medieval Wax Seal
This wonderful item has been loaned to us for display in our library cabinet,, of original Medieval items, which is coming soon. The seal has been professionally assessed and aged between the 13th and 14th centuries. It depicts a person surmounting a turret holding an arrow with a person praying, one playing a musical instrument and two others. The seal belongs to a very good friend, of Soham Heritage and Tourism , who we cannot thank enough for the long term loan of this recently acquired piece of history.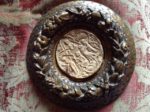 Royal Commemoration Cup
Thank you Mrs J for the donation of a  1992 Wedgewood bone china cup commemorating the 40th year of the succession to the throne of H M Queen Elizabeth II. (1952 – 1992).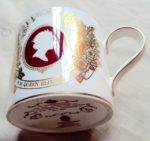 VEIL
A fantastic full length vintage veil has been kindly donated to us by the 'V' ladies. We thank them for their generous and continuous support. This veil will be on display in conjunction with our collection of wedding dresses and related attire. The ladies also made a gift of a large quantity of material which will be used to make replica clothing for children to wear, on our living history days.
JEWELS
A large quantity of costume and other jewellery, has been donated by Mrs B. Some of the pieces are very fine and will be used in conjunction with our various living history events and costume displays. This is a marvellous a very personal donation. Thank you x.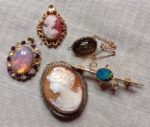 CLOTHING
WOW! Mr & Mrs BT have been extremely generous in their donations of original clothing, including Victorian and later underwear. Some of these garments will form part of our 20th Century Clothing display on 23rd & 24th June. The items had been kept by generations of the same family, so it is very nice to add a name to each piece, including the Wedding Dresses, and pictures of the brides and Grooms too. It makes for a very personal history of a local family.
RAF AND ASSOCIATED ITEMS
Thanks goes to Mr B who donated a German Officers cap, RAF DP jacket, replica WW2 items and a flat cap to us today. Each will add wonderfully to our associated collections. xxx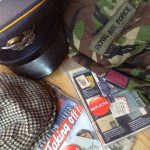 IMAGES
Today we have been given some very personal photographs and an original watercolour relating to one family. The donator has been very generous, over time, with these and many other items. To acknowledge them and their continued generosity and support, the items will now be known as – The Edwards Collection. This will be the second to carry the name of the specific donator. We really, really cannot thank them enough for everything they have donated and for allowing us to display the items to you all. xxxxx
WW2 'SWEET HEART' RING
This little silver gem of a ring was donated to us this afternoon. It was found locally and will be on show very soon in our library cabinet. It will also be one of the items that forms part of our annual school displays so they can view it too. This item comes from The Harlock Collection.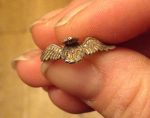 BOTTLES
A huge thank you to M H for her generous donation of bottles. They range from medicine to ink, to strange food stuffs and drink. These will add greatly to our displays and some of them have been very entertaining when reading and discussing the contents.
VICTORIAN BONNETS
Two wonderful, Victorian bonnets have been donated to the group. They are in remarkably good condition, feathers and all and will add beautifully to the ever growing collection of original items of clothing we hold for you. They will be on show for the first time at our Victorian talk on 20th April.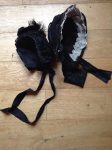 BIBLE
A little gem was uncovered recently and donated to Soham Heritage and Tourism. It is a bible which once belonged to Rev J C Rust. Not only was he the town's vicar, but an advocate of Esperanto, fund raiser for Soham's WW1 soldiers, Town Councilor, School Governor etc, etc. His bible was uncovered very recently and is in a poor condition, which we will be rectifying.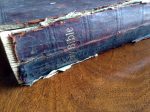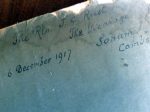 VARIOUS ITEMS
We are delighted to have been given a handmade studio pottery ceramic plate with the Bishop of Ely crest and several old Victorian and later maps of Soham on velum and paper scrolls. These items are wonderful and after restoration to the maps, will be proudly put on display for you all to look at.
PHOTOGRAPHS
Thank you to the man who handed one of our committee members an envelope containing old photographs of Soham and surrounding villages. We would love to know your name, just to say thank you, officially!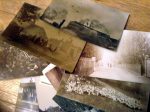 UNIFORM BUTTON
A small find has been donated by a Soham resident. It is a button from a uniform belonging to a worker for The Great Eastern Railway. It was found as he was hoeing ready for planting out seedlings. We are so grateful to him for thinking of us, and considering the region it was found, lends itself to our railway heritage.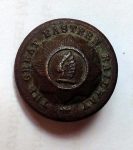 SOHAM SIGNS
We have just been given the two old Soham town signs to hold in our collection for the community. The two signs were in a very bad state of repair and the two oak posts that held them, were both rotten. So we are very, very proud to have had them donated to us and in the coming months, we hope to re paint one and leave the other in its original sate when brought to us. A new set of signs will be made as part of a competition, guided by Soham Town Council, and will grace our town once more.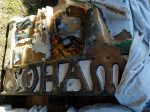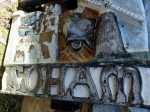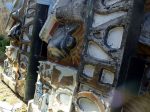 1947 & 1953 FLOODS CD/DVD
Just for you Mr M, huge hugs for the CD/DVD of original footage from the floods. The children loved viewing this at our recent Fens talk and it gave a great and realistic insight of the events to an audience who, luckily, have never witnessed such. We thank you x.
SOHAM OLD PHOTOGRAPHS
Thank you Mrs M H for your generous donation of original old Soham photographs. They will be treasured by us and viewed by all over many years to come.
WW1 – SCRAP BOOK
We are very lucky to have been given a scrap book full of pictures and information on all the men from Soham who fought and died during WW1. The book will be on display during the Somme remembrance event (2016), which is currently being organised by the Soham WW1 – Lest we forget Committee, of which we are members.
BOOKS
On Monday we were given a number of publications for our archive. They cover subjects such as: local farming and industry, traction engines and life in the region during WW2. The giver was anonymous, so we would like to thank them via this page for their generosity.
MATERNITY WEAR
We are delighted to have been given some more original articles of clothing for our ever expanding collection. This time two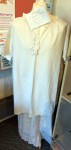 pieces of Victorian Maternity wear have been kindly donated to us. They compose: an over shirt and petticoat, both of which are in excellent condition. They are currently on show beside our library display cabinet.
CHRISTENING GOWNS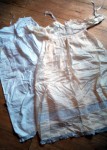 On Tuesday we given two beautiful Christening gowns by G Miller. They were made by a lady in Cambridge in 1934. One is white cotton the other silk and lace mix. This generous and very personal donation will take pride of place amongst our growing collection of original garments from local people. Thank you so very much GM for your kind donation, we will treasure them.
SOHAM PLATES
We have been given a set of six china plates with scenes of Soham upon them by PH. These are now in the Pavilion cabinet and the engraved representations on them are well known and beautifully done. Thank you PH for your generosity.
SOHAM CARNIVAL & THE NORMAN'S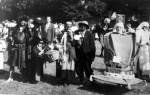 The collection of pictures, which have just been donated to us are a wonderful reminder of how much, residents of Soham past and present, embrace the Soham Carnival. We are thoroughly delighted with the mass of original photographs which have been kindly donated to us. They will be on show in our Pavilion cabinet in readiness for this long standing annual event.

An original document relating to the National Insurance Act of 1911. This has been gratefully received from a good friend of Soham Heritage and Tourism. He has kindly donated many of the items which we have been so pleased to show to you and we thank him for his continued support and generosity. RAx
---
SAXON BROOCH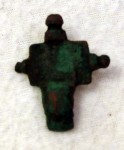 A recent find which has been kindly donated. It is thought to be Anglo Saxon and is currently undergoing investigation. Item from the recently named – Harlock Collection.
---
DELIVERY VANS
Two pictures have just been donated to us of businessmen and their vans from 1916. One is of Martin & Sons grocery van with Mr James Richardson and his son followed by Mr Ernie Norman and his bakery van, both outside a residence in Fordham Road.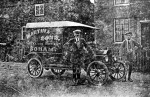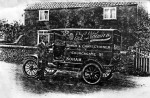 ---
ROMAN TILE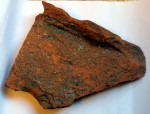 This section of Roman tile was donated to us last month, it is approx. 6cms wide and in good condition. It will form part of our archaeology display in the new year with our other items.
---
VIKING PENDANT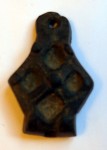 We are delighted to have been given this wonderful pendant, which was used as a strap end or horse harness pendant (yet to be confirmed). It too will form part of our up coming display.
---
COMMONWEALTH COIN – English Civil War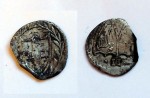 This coin was found in Soham and has been kindly donated for display with Soham Heritage and Tourism. From The Harlock Collection.
---